THE HOLIDAY EDIT
Know the story behind your gifts this Christmas.

ILANA BLUMBERG
Ilana Blumberg is a knitwear designer weaving a deft balance between oppositional forces. Having trained in architecture, her designs lend evidence to a mind as versed in technical construction as creative free-play, as interested in functionality as aesthetics.
MATILDA LITTLE
Matilda's route into jewellery-making, it transpires, was something of a circuitous one, and can be traced back to the idiosyncrasies of her painting practice. "As part of my process," Matilda explains, "I would begin by sculpting an object and then painting it. No one would ever see the sculpture, but after a while I started experimenting with lost-wax casting, which is a technique that involves carving something out of wax, and then getting the wax form cast. It can be done in your bedroom, so I started doing that and made a couple of rings. I was just playing about really, but suddenly my friends were all asking to buy them off me. It was a very natural progression."But however accidental this journey might have been, Matilda was immediately inspired by the challenges of this new discipline. "Working with metal requires a completely different way of thinking about things. For example, I think the fact that I was suddenly working with a more limited palette really helped me to concentrate more on form, without having to worry about juggling colour at the same time in the way that you have to with painting. It definitely helped to focus me." But Matilda's attraction to jewellery-making goes further than this. "There is also something about the size of jewellery which drew me in. Unlike with a big painting, you get to see the way that people react to a piece of jewellery, the way they handle it – it's a much more personal experience for everyone that comes into contact with it. I found that very inspiring. If you go to a gallery, you can look at a painting on the wall, but it's not the same. Most people can't even afford paintings."

CHANEL ALORSAN
It's clear from the way that Chanel discusses the arts that they are her daily bread. But her relationship with creativity has not always been a straightforward one. The daughter of two Palestinian immigrants, who came to America seeking refuge from the financial and systemic hardships they had faced under the occupation, Chanel's lifelong interest in the arts became a bone of contention at home. "They firmly believed that any sort of creative expression was useless, because they thought it wasn't something you could make a good living from." In spite of this however, Chanel is quick to note her debt of gratitude to the sacrifice her parents made for their family: "Since my parents didn't have access to education," she explains, "they instilled in me and my siblings, a strong sense of the value of education, and the importance of a consistent work ethic. I feel a strong obligation to ensure that their sacrifices have not been made in vain." For Chanel however, a commitment to hard work doesn't need to come at the expense of creative expression. "I want to be an example to my younger siblings. To show them that they can thrive in non-traditional and creative spaces. That's what keeps me motivated to continue working hard. I want to create a space for other Middle Eastern people and other People of Colour to work in the creative industries.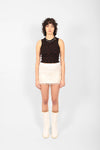 SYDNEY PIMBLEY
Having cut her teeth in the couture studio of Maison Margiela under the tutelage of John Galliano, Sydney Pimbley launched her own label in 2019. A one-time recipient of the highly esteemed LVMH Grand Prix Scholarship, Pimbley collages unique fabrics from eclectic sources, to create multi-layered designs that speak to the craft of their maker.

FOR THOSE WHO LEFT IT TOO LATE: