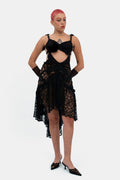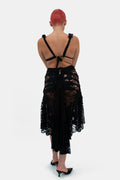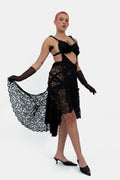 PRODUCT INFORMATION
This dress is crafted from stunning vintage black lace. It is adorned with antique bow ties on the bust and in a criss cross formation around the hips and back. The back of the dress features a cascading ruffle in black lace and has tie details at the bust and waist.
SIZING 

Bust: 32"
Waist: 26.5"
Hips: 36.5"
BRAND
Having cut her teeth in the couture studio of Maison Margiela under the tutelage of John Galliano, Sydney Pimbley launched her own label in 2019. A one-time recipient of the highly esteemed LVMH Grand Prix Scholarship, Pimbley collages unique fabrics from eclectic sources, to create multi-layered designs that speak to the craft of their maker.
DELIVERY
This item is ready to ship, please allow 2-4 days to be shipped. Orders are processed from the UK, Monday to Friday. 
Shipping fees will be applied at checkout. We offer Standard and Express Shipping options. All orders are shipped worldwide with tracking. Once your order has been shipped you will be updated with the tracking code. Please note that shipping times vary based on individual brands, see our Shipping Policy for more information. 
Please read our Returns Policy.